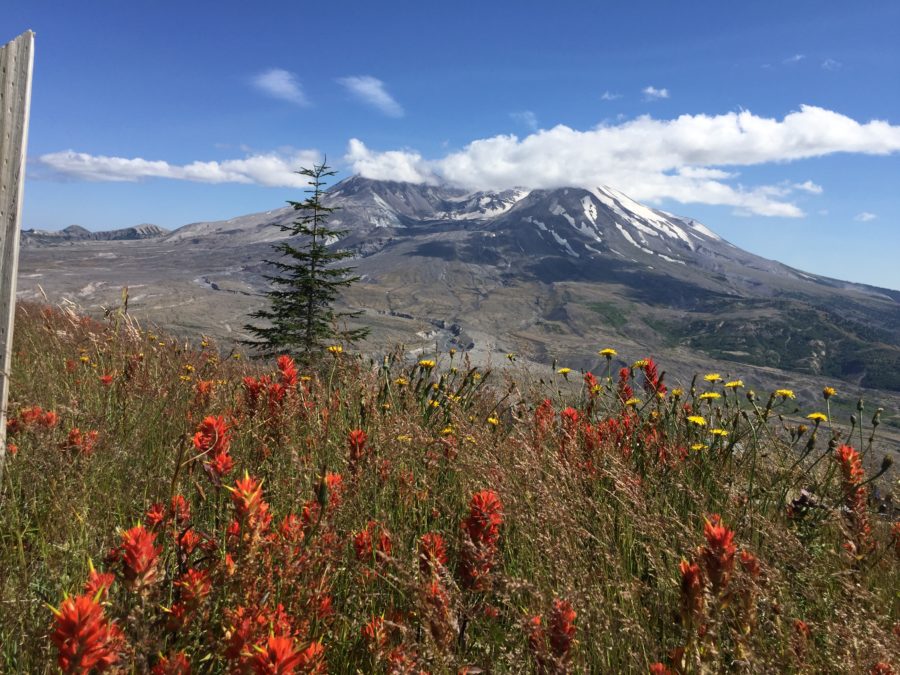 For our family vacation this year, we decided to explore a little closer to home, and spend some time at Mount St. Helens National Volcanic Monument. It erupted just a few weeks before I was born, so this is a place I've had the opportunity to watch grow and change throughout my lifetime. It's a place of constant renewal, where you can keep going back again and again, seeing completely new things every time, and having a completely different experience. The kids had just completed Freshman Earth Science at their high school, and this seemed like a perfect way to wrap that up. Their last visit to the mountain was when they were only about 4 years old, so I imagined things would have changed quite a bit in 11 years. We also had some drama at the Johnston Ridge Observatory movie theater, involving a hasty exit with a certain 4-year-old who did not appreciate the eruption movie, so I hoped to create more positive experiences this time around.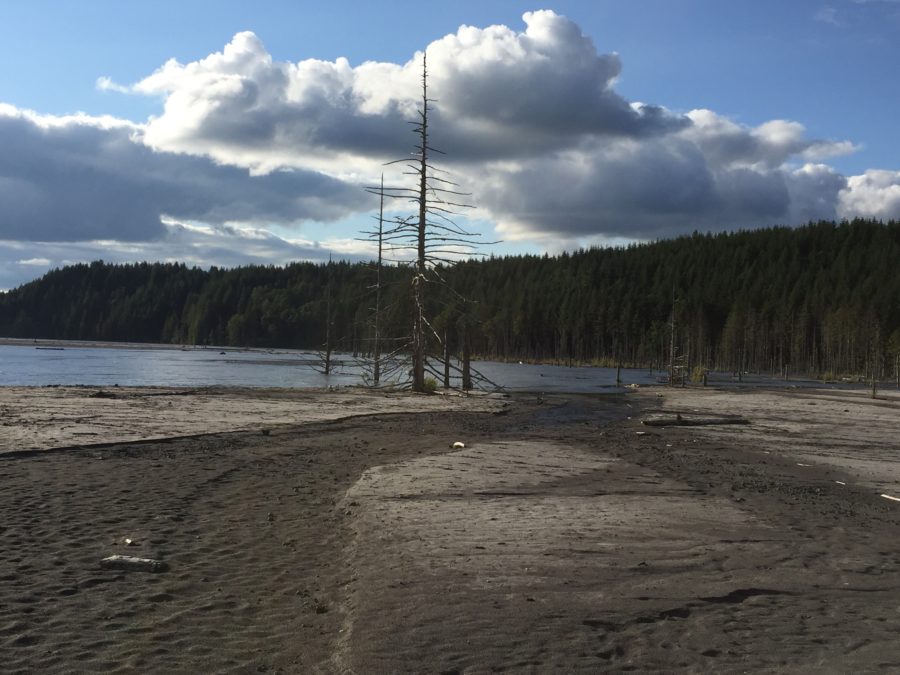 After a relatively short drive from the McKenzie River, and a lunch stop at the Mount St. Helens Visitor Center at Silver Lake (the original visitor center build a few years after the eruption), we arrived at the Eco Park Resort, the closest place you can camp on the highway up to the mountain. With cabins, tent sites, and 80 acres of forest and hiking trails through the mud flows along the Toutle River to explore, it was the perfect spot to unwind and get in vacation mode. The hike to the mud flows came highly recommended by the Eco Park owner, so we headed off to hike down there as soon as we got the car unloaded. The trail started on logging roads, and went through forest and swamps, passing through old homestead fields and orchards, until we came to the edge of the mud flows.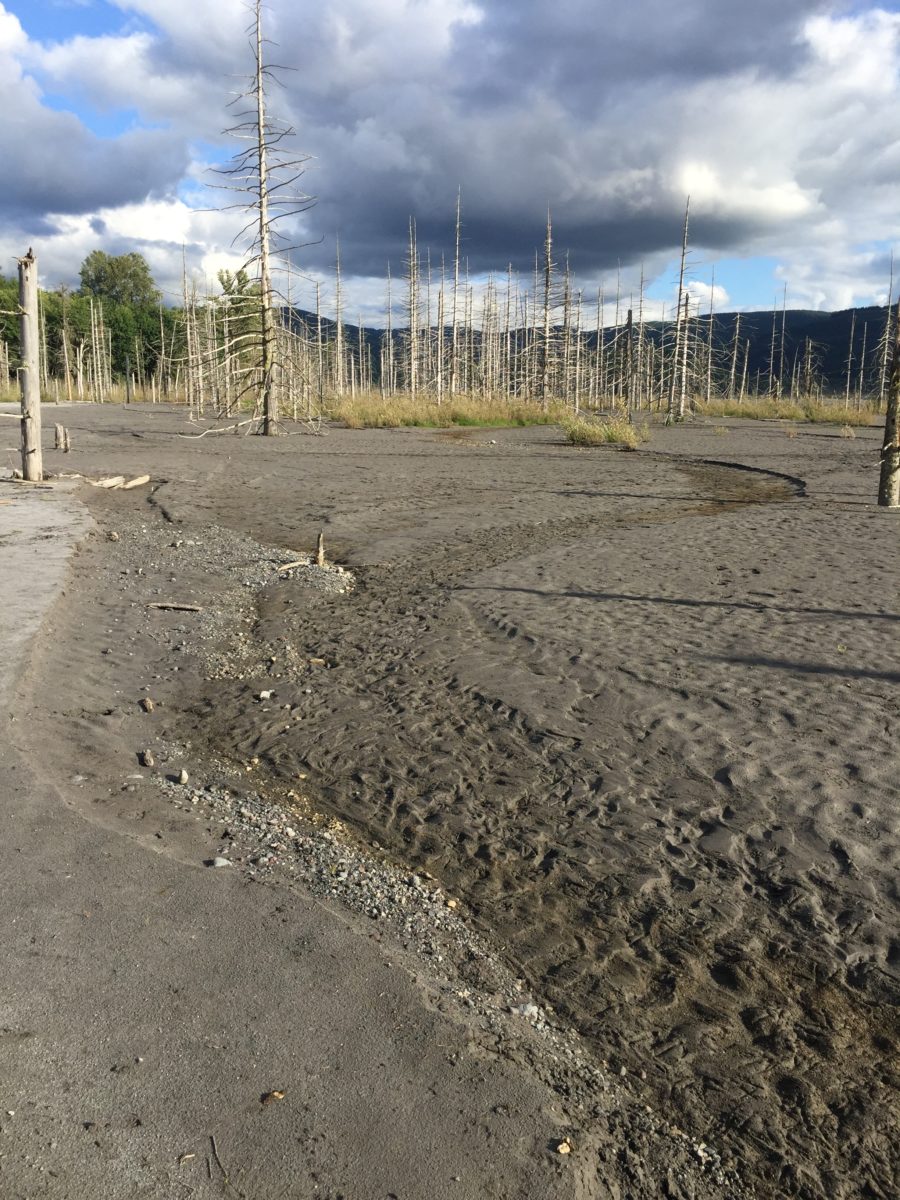 When Mount Saint Helens erupted on May 18, 1980, pyroclastic flows melted all the snow off the mountain, and  sent a wall of water, trees and ash down the North Fork of the Toutle River, filling up the valley floor to 200 feet deep in some places. Silt and mud continue to flow down and be deposited to this day, creating a constantly rising valley floor, and perpetually changing landscape.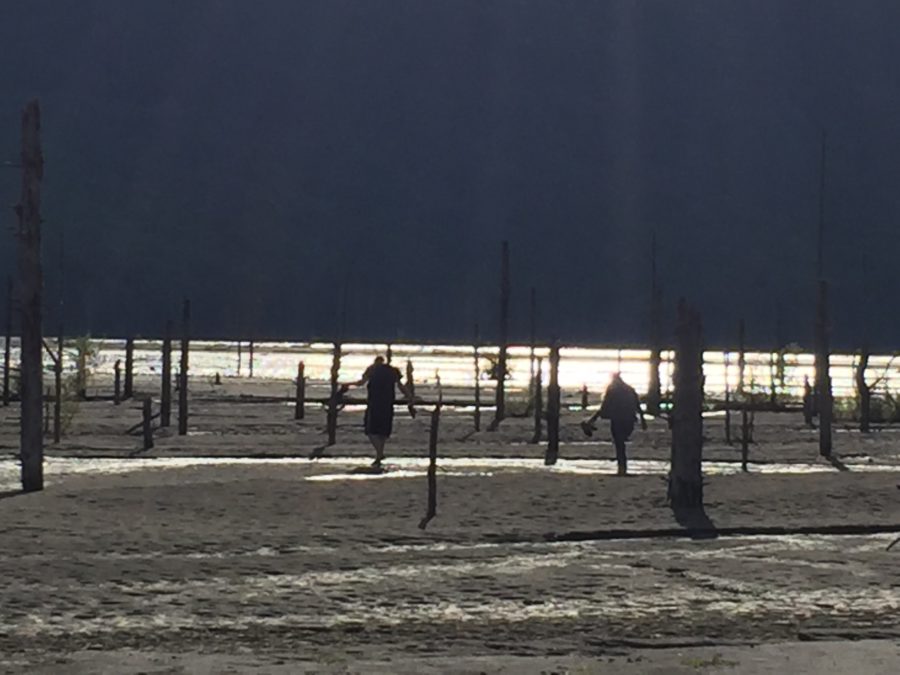 We took off our shoes, and made our way out to the river, through the ghostly silhouettes of the forest that once filled the valley.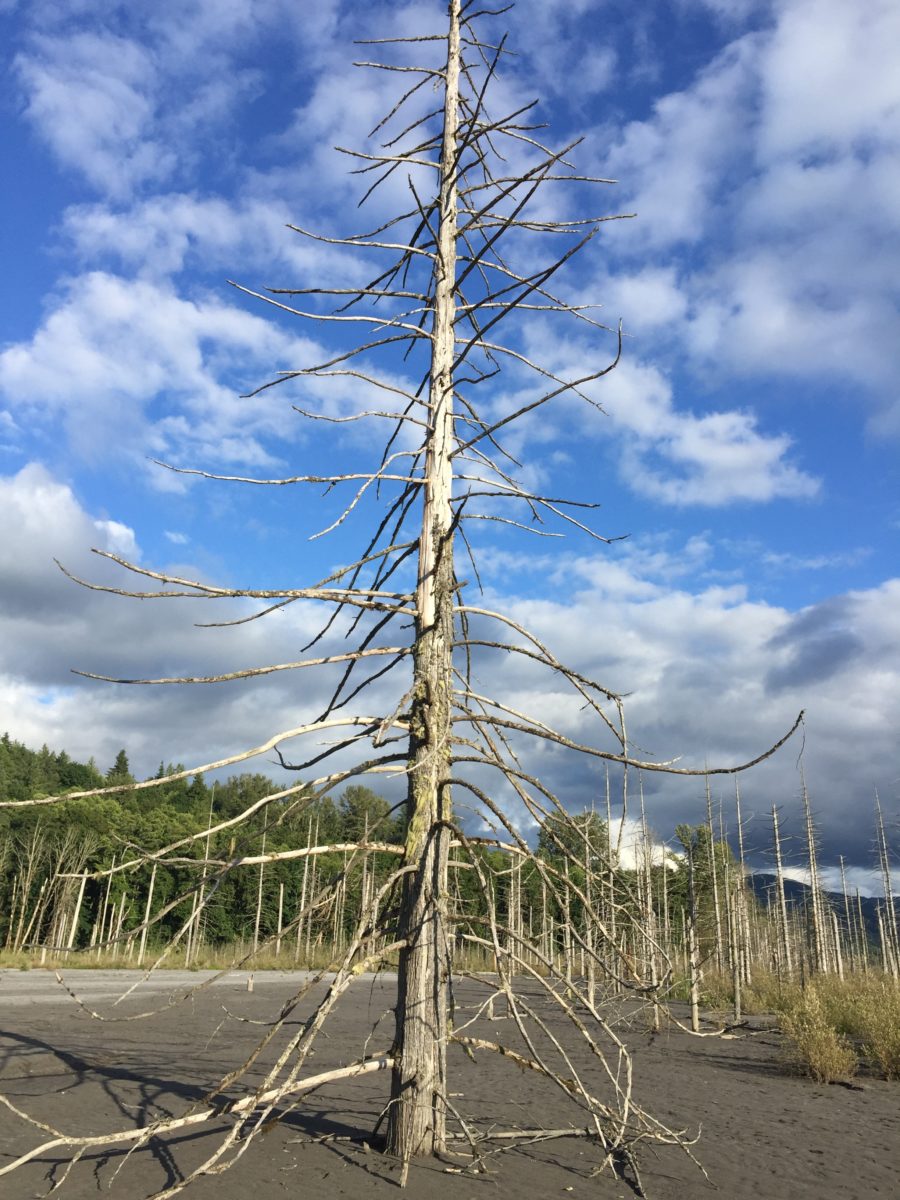 It was quite a stark contrast along the edge of the living forest, and strange to think that edge keeps moving outwards every year. The owner of Eco Park joked with us that he'd have water front property in another 15 years.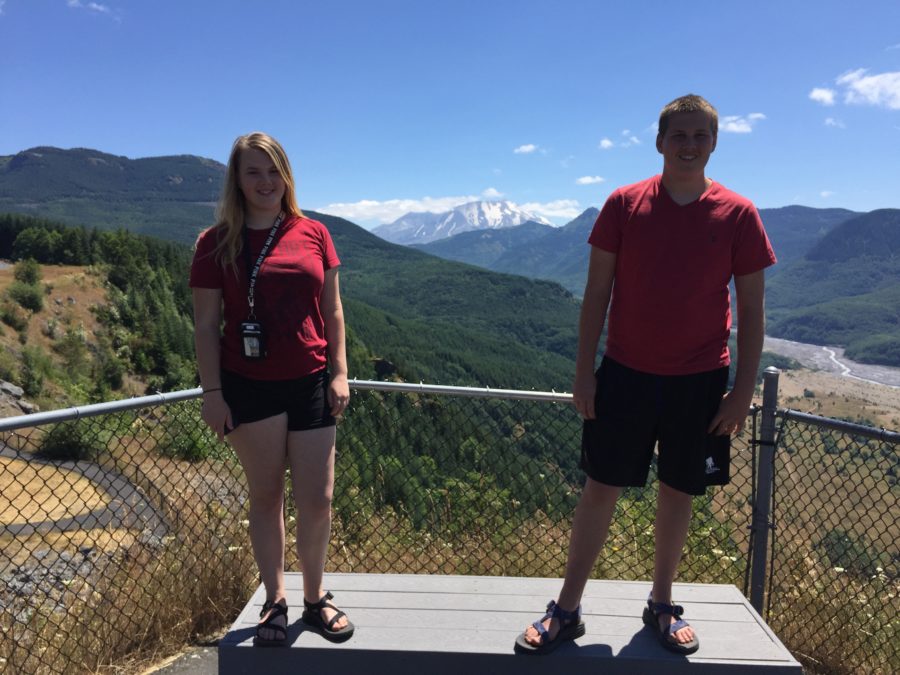 In the morning we headed out for the Forest Learning Center on the way up to the mountain.  Since this center is funded and operated by Weyerhaeuser, it's mostly all about their efforts to clean up the area following the eruption, and a bit of shamelessly promoting the timber industry thrown in there, but still very much worth the stop. It's also one of the first really good viewpoints of the mountain, with a little trail going up to an overlook.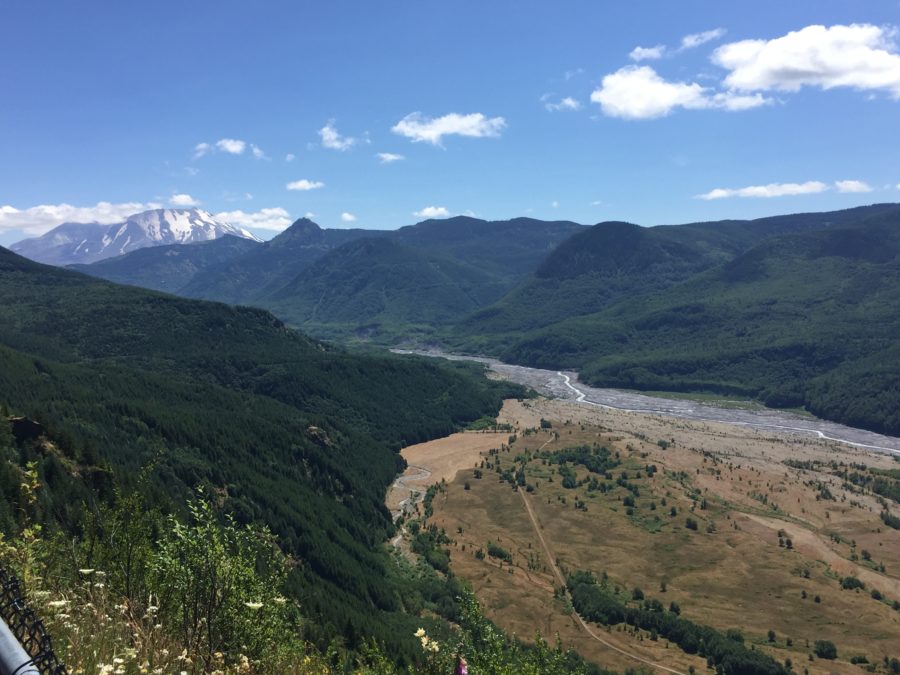 From here you could get a really good view and different perspective of the mud flows going down the valley. When you're standing on them, it's hard to see how expansive they really are.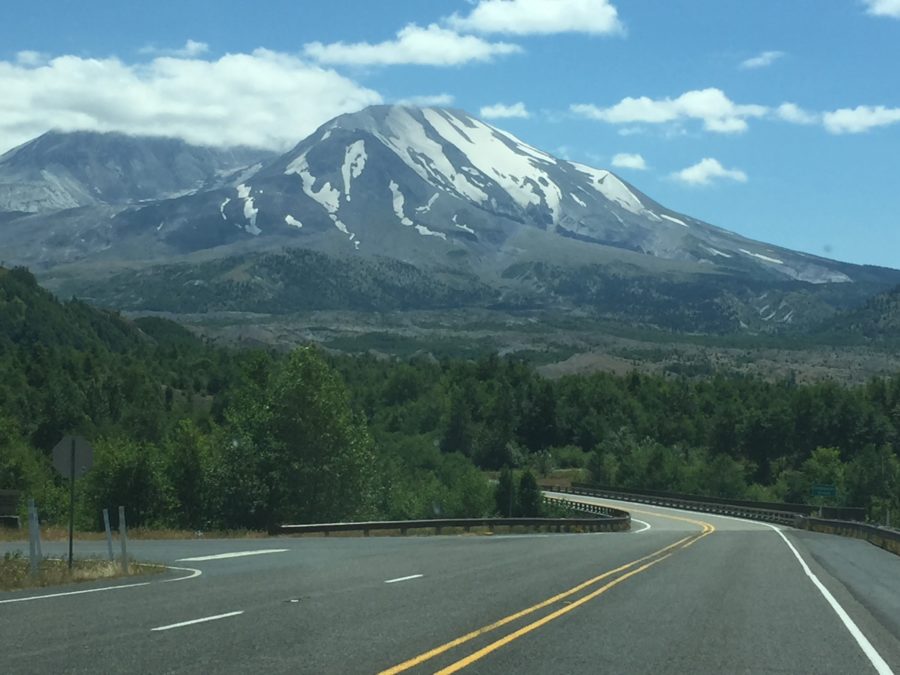 As we traveled up the Spirit Lake Highway, we kept getting better and better views of the mountain. What struck me the most was crossing the bridge into the blast zone, and being completely underwhelmed. I remember it being a stark contrast even 11 years ago, seeing that line where the blast knocked the forest down, and now you couldn't really tell where that line was anymore.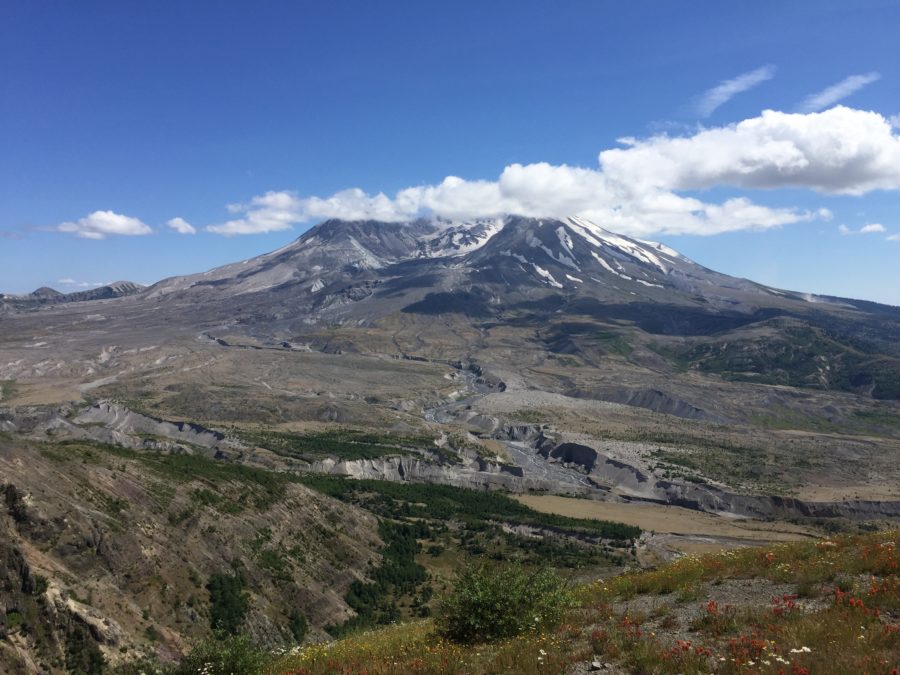 Once we arrived at Johnston Ridge Observatory, we had a full on view of the crater, and you could really see how slow regeneration is closest to the mountain. There was a lot more green covering the area than I remembered from last time, and there were beautiful wildflowers everywhere.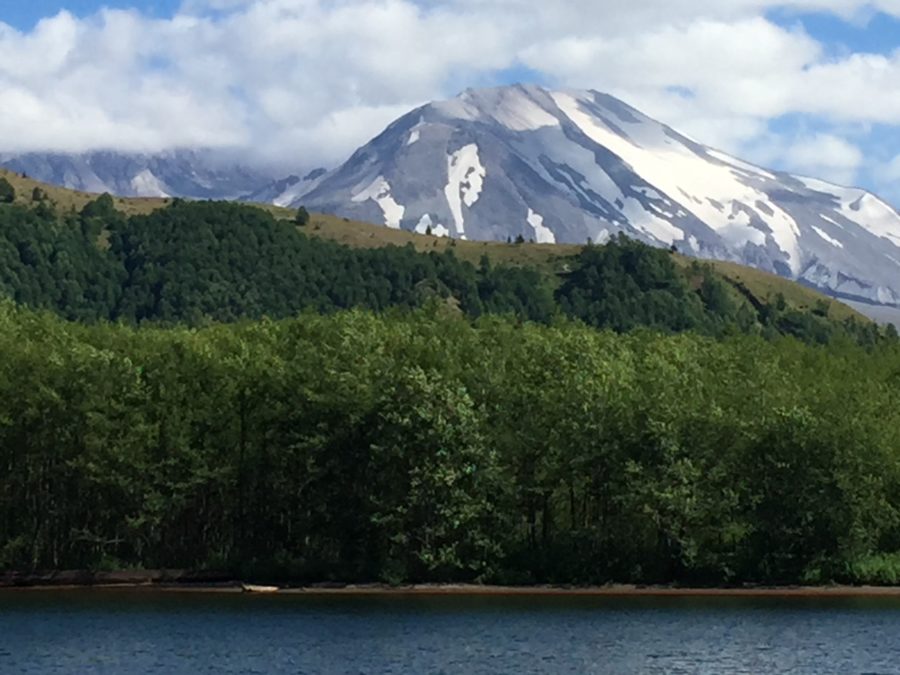 Our final stop for the day was Coldwater Lake. Non-existent before the eruption, this lake was formed by the mudflows damming Coldwater Creek. It was pretty amazing to see something so beautiful created out of something so catastrophic.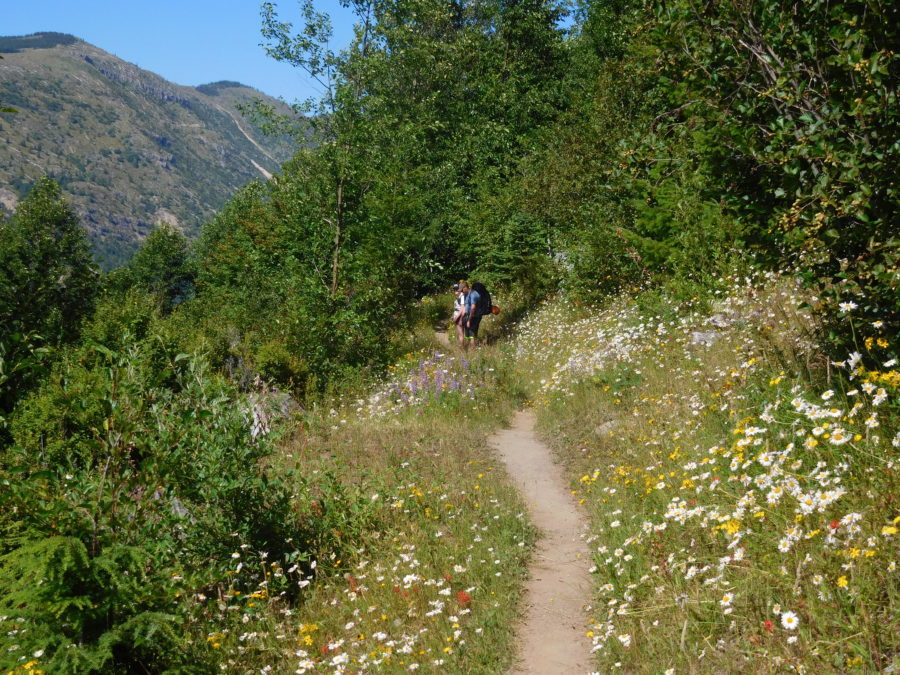 After traveling to a family gathering over the weekend, we returned to Mount St. Helens for our backpacking trip. The trailhead we originally intended to take into the Mt. Margaret Wilderness to our backcountry campsite reservation was still closed due to snow, but the ranger station helped us find another available backcountry site accessible from the Spirit Lake Highway side, and we ended up coming back to Clearwater Lake Trailhead. This actually worked out for the better, because we got to hike right through all those beautiful wildflowers.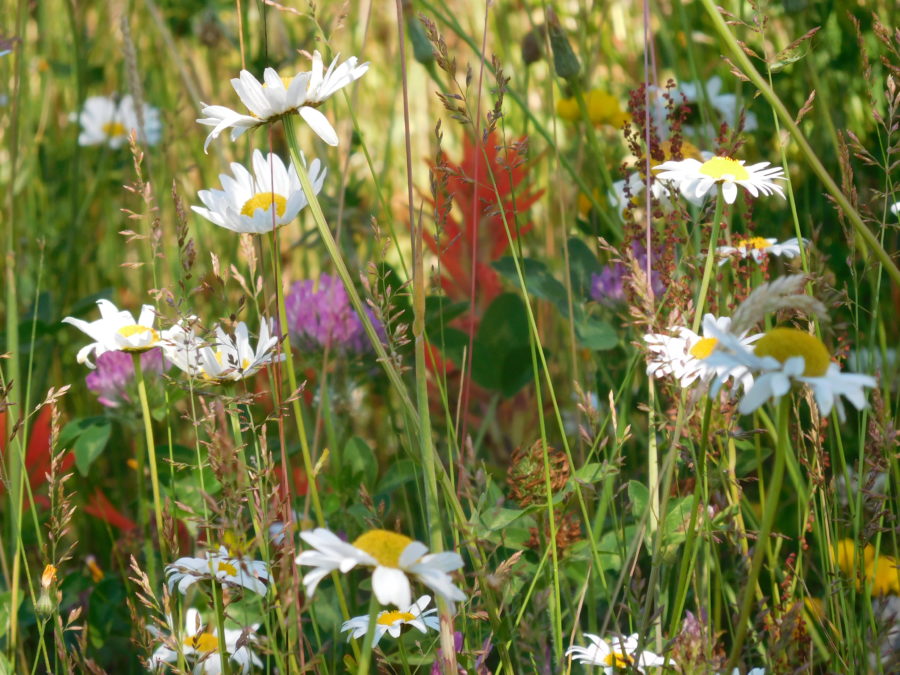 Oh, those wildflowers…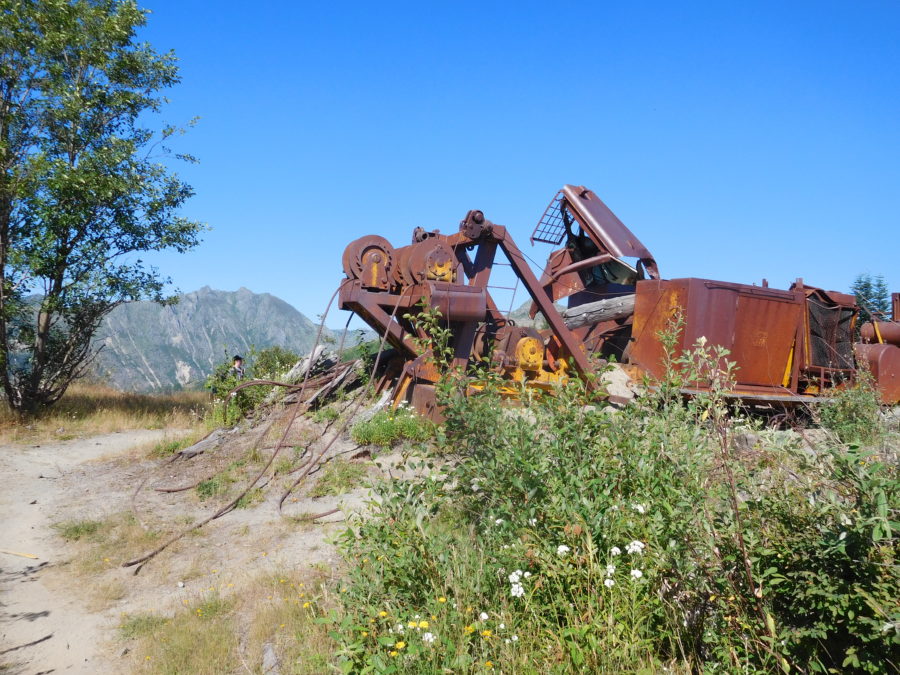 At one point we came around a bend and encountered the wreckage of logging equipment caught in the eruption. Partially buried in ash and smashed by trees in the blast, there was nothing to do but leave the equipment strewn along the trail, to be slowly overtaken by nature.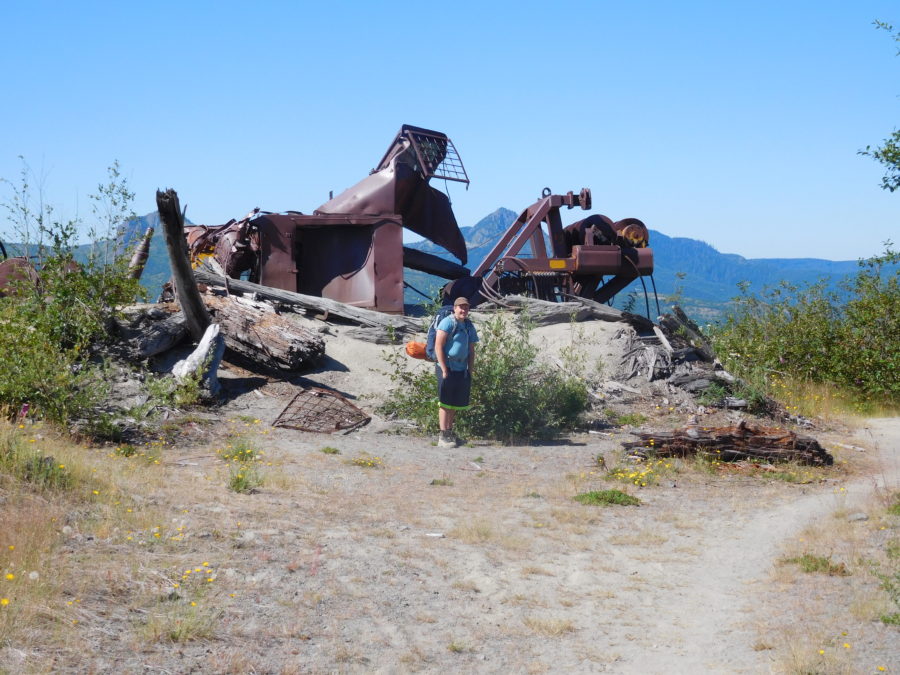 You always get to know a place in a little more depth once you step off of the paved areas and visitors centers, and this logging equipment was a piece of the story  of Mount St. Helens I was glad to not have missed.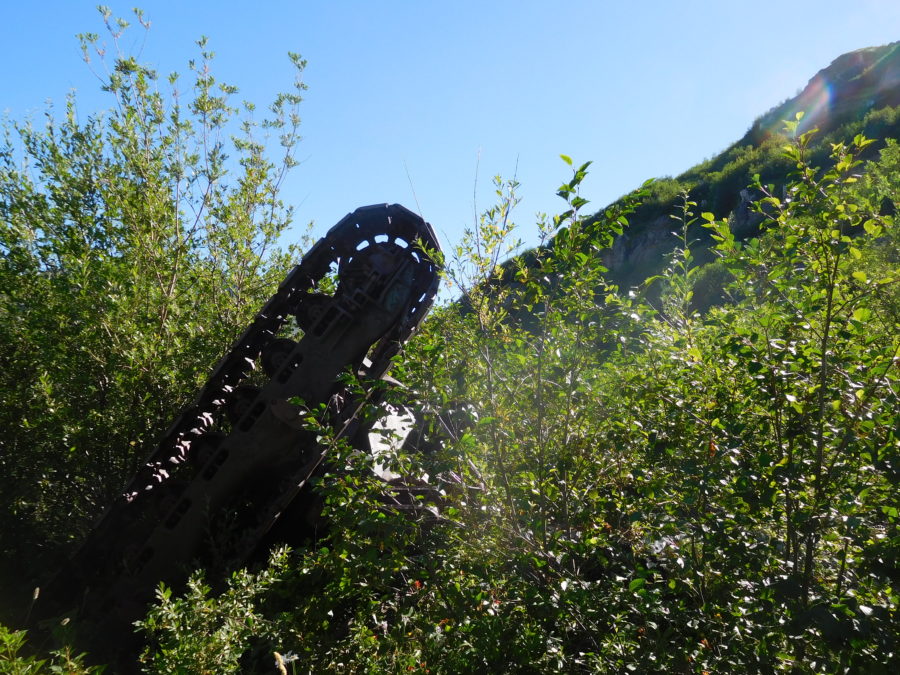 A little farther down the trail we passed this upturned bulldozer almost completely overtaken by young alder trees. You can watch documentaries and read about it all you want, but until you're standing next to a bulldozer that was flipped up on one end and mangled, it's hard to fully wrap your head around the force of a volcanic blast. It was honestly a bit creepy.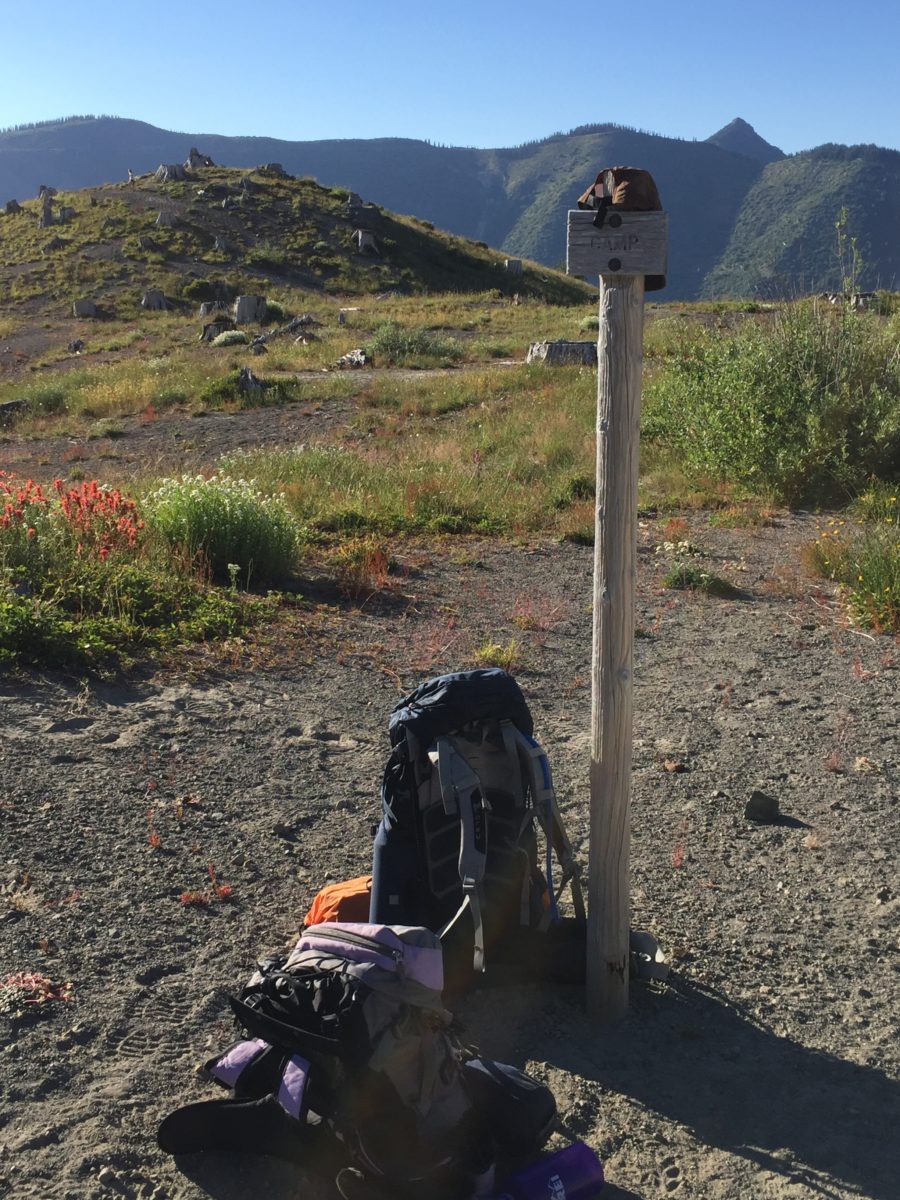 Ridge Camp is the closest backcountry site you can hike to, at a little over 3 miles in, so it didn't take us too long to arrive at a flat area with a sign marked "camp", and we knew we had arrived. Some might think it wasn't the most picturesque campsite, with a flat expanse of ashy sand, and the stumps of trees surrounding us, but I feel like we got to immerse ourselves in the story of the mountain by spending a night here, in a way that we wouldn't have otherwise been able to.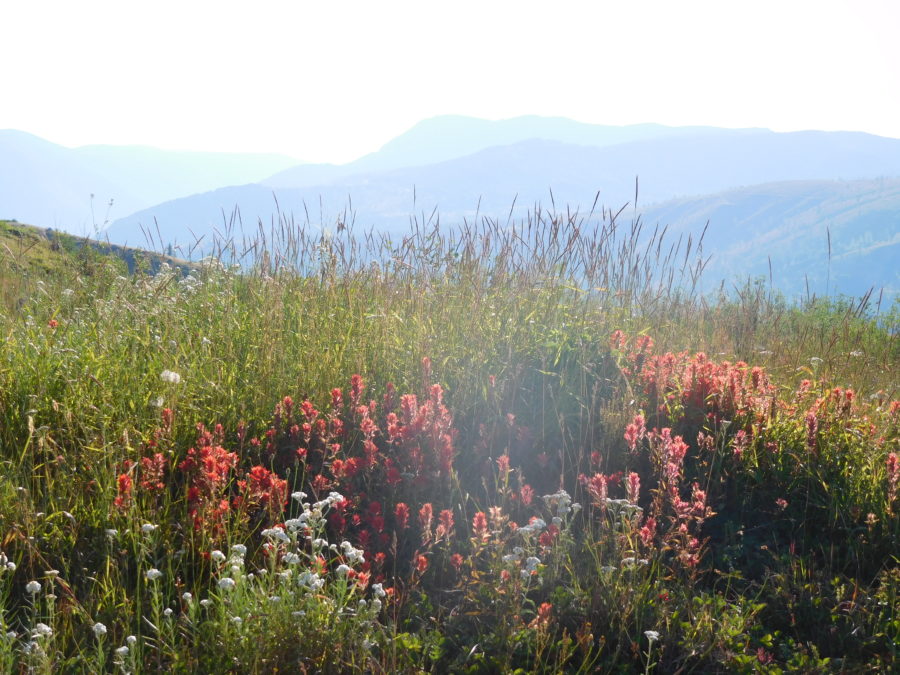 What we didn't have in green forests or sparkling lakes, was more than made up for in wildflowers, a nearby marsh filled with singing birds, and views of ridges for days.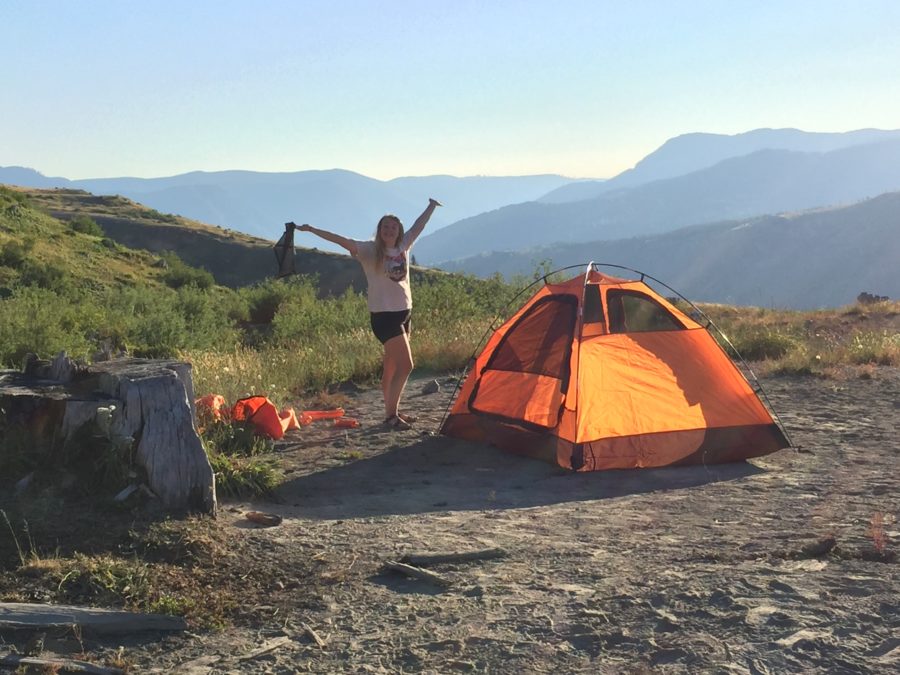 My daughter was very excited to try out her brand new backpacking tent and pick out her own tent site. Backpacking with teens is sort of a microcosm of the whole raising kids and letting go process. It's much more evident how independent they're becoming when you get out of your house and into wild places, and definitely gives some reassurance for the transitions of the years ahead. Hopefully there will be many more backpacking trips during those years.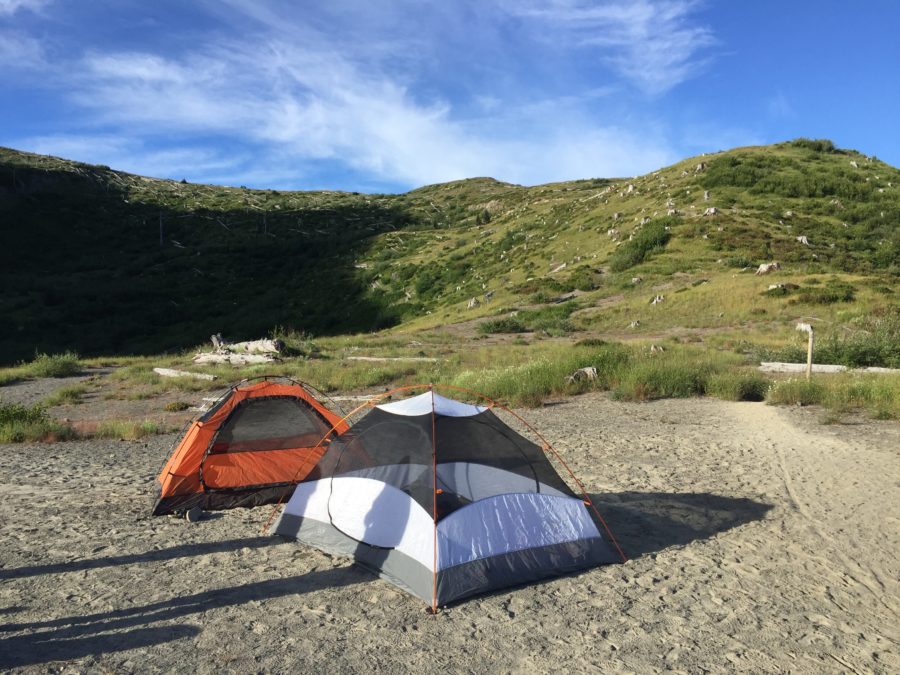 I have to report that she still ended up moving the tent over right next to ours, but it's still a milestone when they move out into their own tent.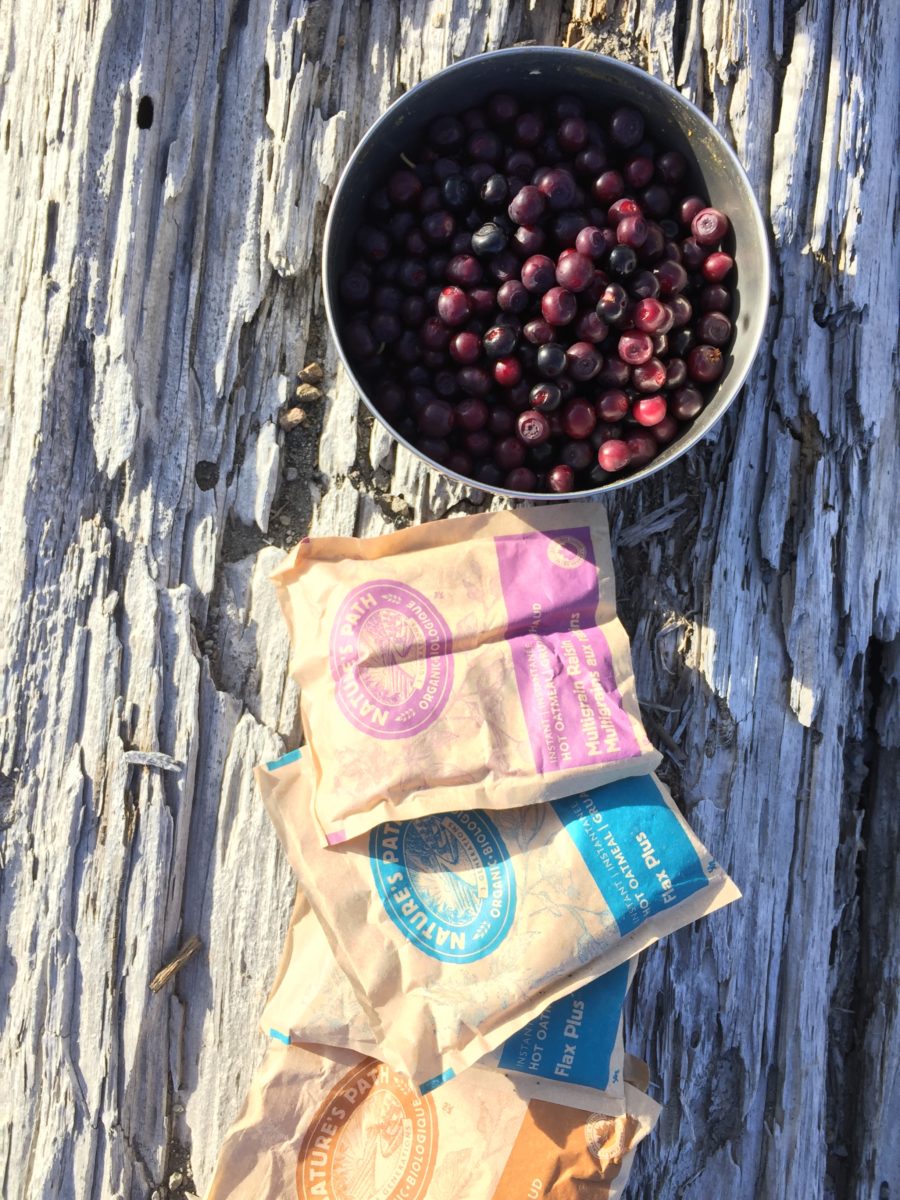 Another bonus our campsite had to offer was a large patch of huckleberry bushes. Nothing dresses up oatmeal packets like fresh wild berries, and this made for one of the most epic backcountry breakfasts ever.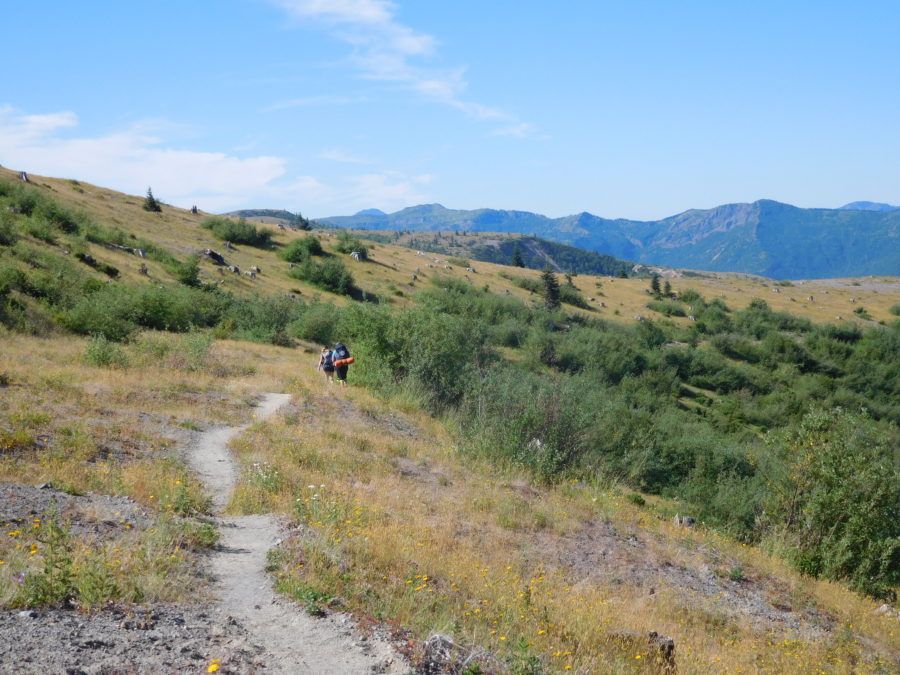 After our amazing breakfast, we headed off on our hike out.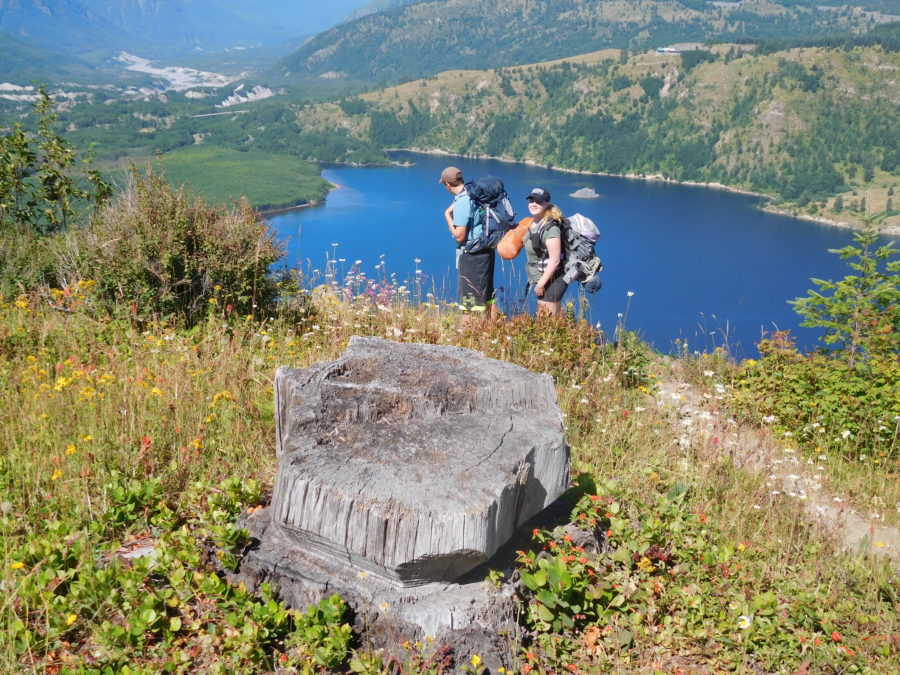 This trail rewards you with some gorgeous views both on the way in and the way out, especially when you come around a corner above Coldwater Lake, just when you're needing a break.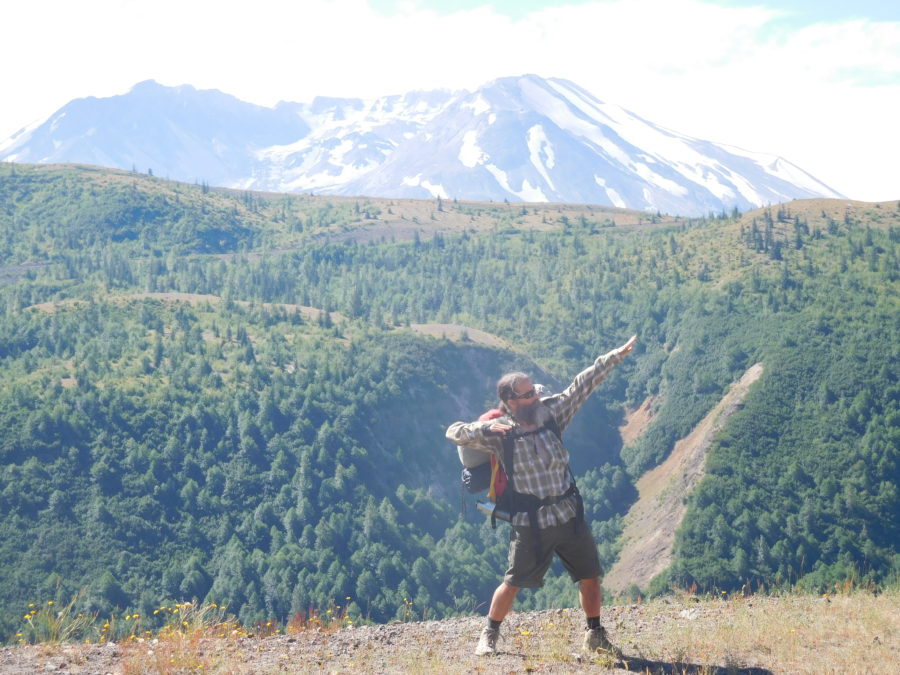 And when you come around the corner and see the volcano, well, that's enough to warrant some impromptu dance moves.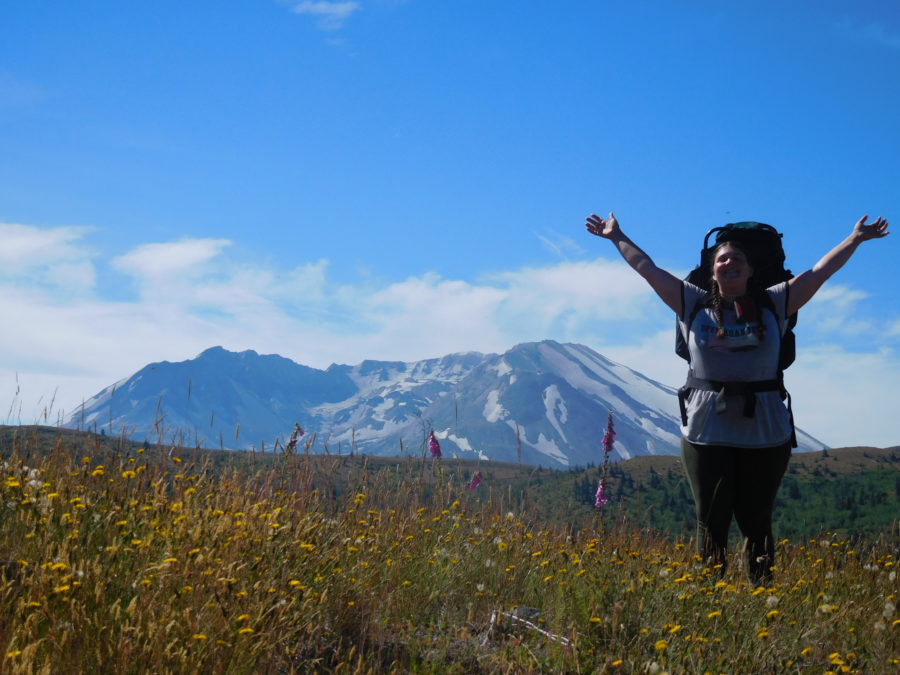 It's a powerful experience standing in front of an active volcano, after all.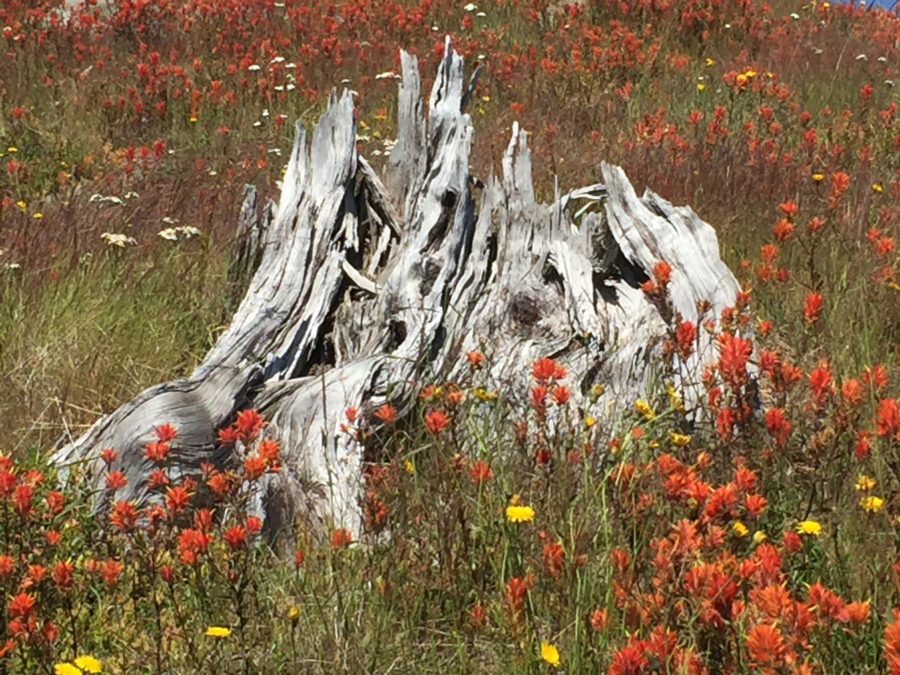 The most striking thing about the Mount St. Helens National Monument was not witnessing the aftermath of disaster and destruction so much as witnessing the regeneration that follows. It felt like a great life lesson was being imparted to us, looking around ground zero of a catastrophe, and realizing that life had moved on and everything was alright. You definitely got the sense here that things were destroyed and things were lost, but time and nature had been busy at work creating something new and beautiful from it. The blankets of wildflowers, the young green forests, ponds and lakes that weren't there before; these were all able to come into existence because of the empty spaces that were left. And to think, all of this has been accomplished in the span of my lifetime. There was a lot to take away from this adventure to Mount St. Helens, and I look forward to seeing it again someday as a whole new place.
For more information on visiting the Mount St. Helens National Monument, here are a few useful links:
Gifford Pinchot National Forest – Mount St. Helens National Monument
Mount St. Helens Visitors Guide
USFS – Mount Margaret Backcountry
Mount Margaret Backcountry Overnight Reservations