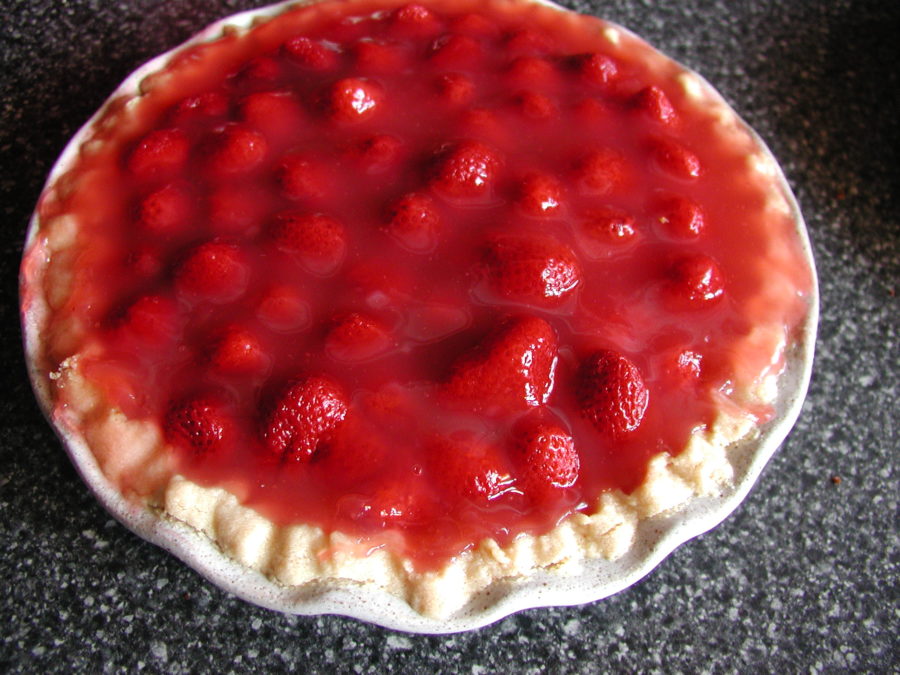 As anyone who has ever frozen strawberries for the winter may know, things usually start out conservatively.  You try to dole the fruit out evenly so you won't run out, but when you do such a good job that you find several bags left and strawberry season is approaching once again, it becomes a free for all. Right around the Spring Equinox, I start making strawberry pies for dessert to help clear out the freezer. I've been using this recipe for a lot of years, and even tried adding tasty extras like rhubarb puree to the filling. Also, it's nice to have a little taste of early summer on those sunny spring days when you've been working out in the yard. Enjoy the recipe!
Mountain Hearth Strawberry Pie
1  baked pie crust
1  quart frozen strawberries thawed
2 1/2 Tbsp arrowroot starch
3/4 cup sugar
1/4 tsp salt
1  cup juice drained from thawed berries
Arrange strawberries in the pie crust. Combine the drained juice from the berries (you can add some water if it's not quite 1 cup), sugar, arrowroot starch, and salt in a saucepan. Heat on low and stir until thickened. About 10 minutes. Pour the mixture over the berries and cool. You can refrigerate 4 hours before serving, or just eat it once it cools if you can't wait that long!