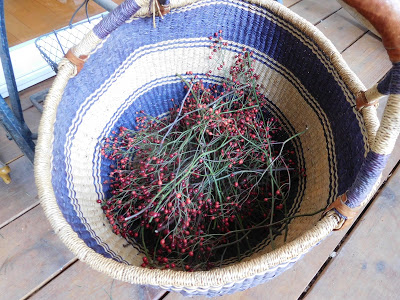 Winter decided to really show up and linger this year, and since we're not really used to that in this part of Oregon, I've found myself gravitating toward things that are bright and cheerful. I noticed some flaming red rosehips peeking out of the briars along our driveway, and went out one morning with pruners and a basket to investigate. I may have gotten a little carried away, and ended up putting sprays of rosehips all over my house, but let no one say it isn't looking bright and cheerful now. Winter gloom has been vanquished from this farmhouse.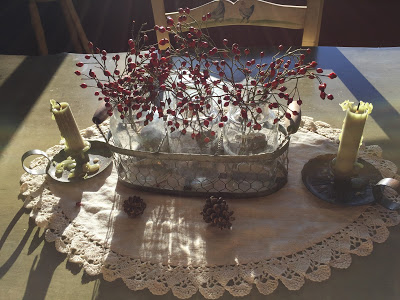 There is something therapeutic about bringing things from nature indoors in the winter. When you're sitting around the dinner table looking at plants and pinecones, it serves as a reminder that better weather will come back around, and there are more good times hiking, camping and working outside to be had.  It's also nice to know that I can save them dried for making herbal tea, and nothing will go to waste.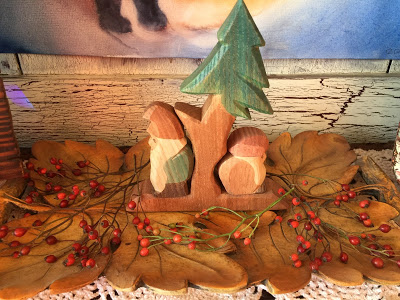 I put some  of the rosehips around our little wooden gnomes, lest anyone forget we were a Waldorf school family for so many years. The kids have pretty much asked me to pack away all their toys at this point, but there are still telltale signs like watercolor paintings, a seasons table in the corner, and all kinds of wool all over the place. They may be high schoolers now, and not the least bit interested in gnomes, but it's important to always remember where you come from.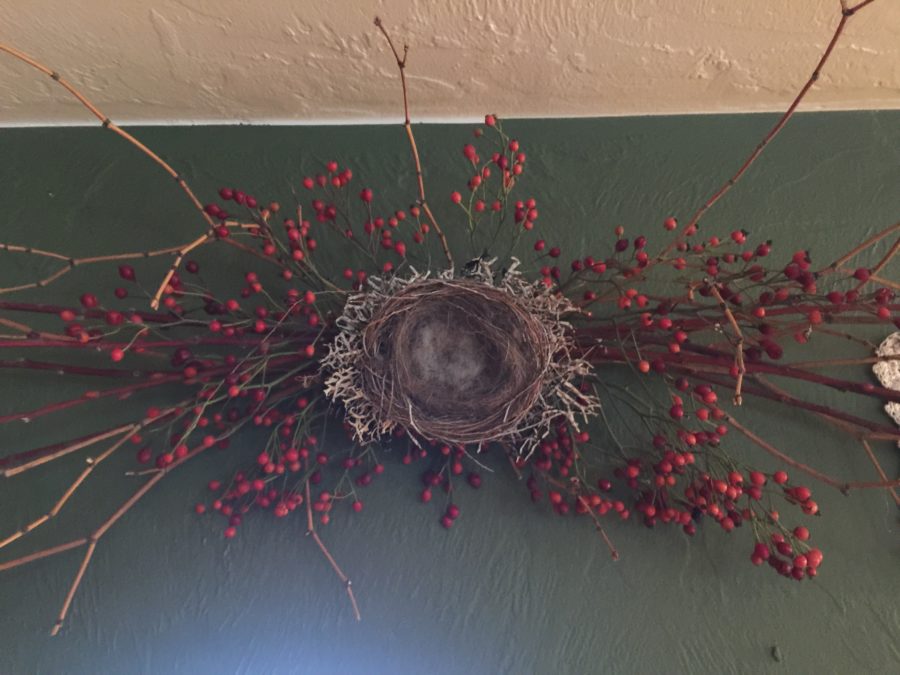 I used some of the rosehips to spruce up an old swag I made one winter for my old farmhouse in Elmira. The rosehips had lost their color and gotten pretty dusty and funky over the years, so it felt good to take the whole thing apart and start over with fresh rosehips. It's always a good thing to shake the old dust off our lives from time to time.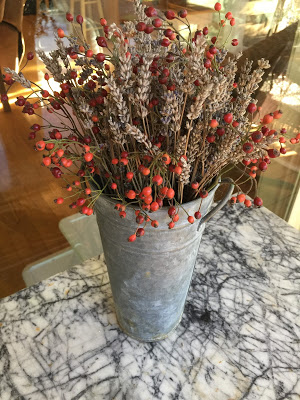 There were still more rosehips left after all that, so I made some arrangements on our porch. They blended really nicely with the summer's dried lavender, and every time I look at it, I can't help thinking about summer days to come. These are the kind of thoughts that get us through cold, dark times. It feels in many ways like our country is heading into it's own winter, but I just keep reminding myself that there will be light, warmer days, progress, social justice, and equality at the end of the tunnel. Winter always gives way to spring.